Prof. Driscoll's group works in the area of Oxide Energy Materials And Electronics based on advanced thin films. Oxides are of interest as they possess the whole range of materials functions, all the way from insulators to superconductors (with ferroelectrics, semiconductors, and magnetic materials, and a range of other functions in between) (Fig. 1). In the vast majority of cases, they are environmentally stable and benign. There are a large number of possible applications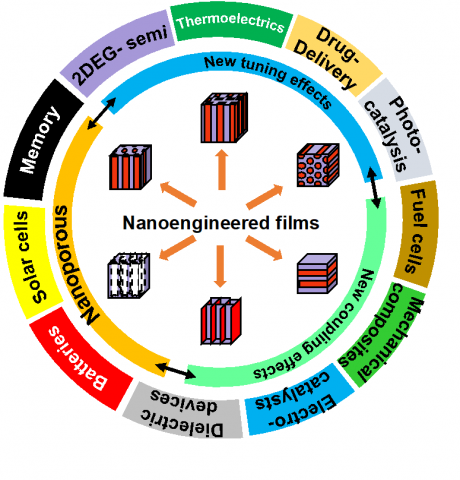 Thin films, nanostructuring and interfaces.
The Driscoll group uses nanoscience to engineer oxide materials and they focus on basic science through to application. We are interested in both understanding of basic functionalities and in engineering new interfacial- driven properties. We design and fabricated novel nanostructured films (both standard superlattice approaches) and self-assembled ordered nanocomposite films. Our work is highly interdisciplinary straddling the fields of applied physics, chemistry and engineering. We work closely with industries in the UK and abroad and a number of our discoveries/inventions have been adopted by industry.
We fabricate high quality thin films using advanced pulsed laser deposition with laser heating and in-situ XPS (Fig. 2). We also use atmospheric pressure spatial atomic layer deposition (AP-SALD), ALD and sputtering. We also do wide-ranging in-depth characterisation (range of electrical and magnetic measurements from cryogenic temperature, up to ~700°C) to fully understand the materials properties. We collaborate with groups to do density functional theory (DFT) calculations to determine interface structures. This is necessary since interfaces play a very important role is determining the functional properties.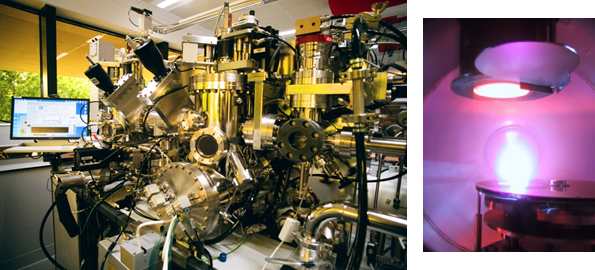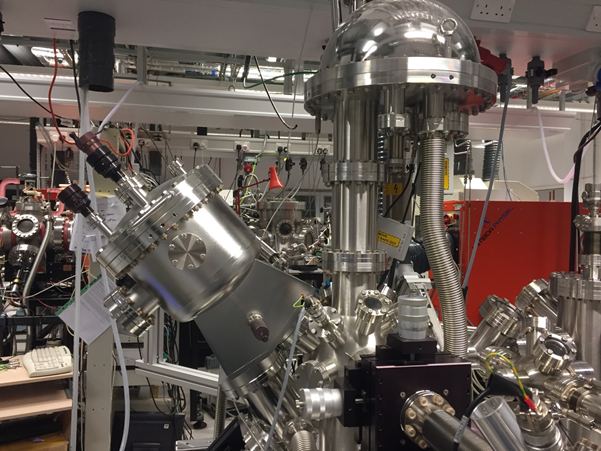 Fig. 2. Advanced pulsed laser deposition systems (one system with in-situ XPS) used in Prof. Driscoll's group. 
Some example structures and fascinating properties stemming from the nanoengineered thin film composites we make are:
a) Artificial Superlattice Structures
We create artificial superlattice structures by advanced PLD. These structures enable us to learn about emergent interface phenomena, as well as to create new properties through interface engineering.  An example is the perovskite system: La0.9Ba0.1MnO3:SrTiO3 (LBMO/ STO) (Fig. 3). In thin films, LBMO is a ferromagnetic metal although in bulk it is a ferromagnetic insulator. Through interface engineering to control the octahedral rotations in the LBMO using the STO as a pinning layer, we reinstate the bulk properties.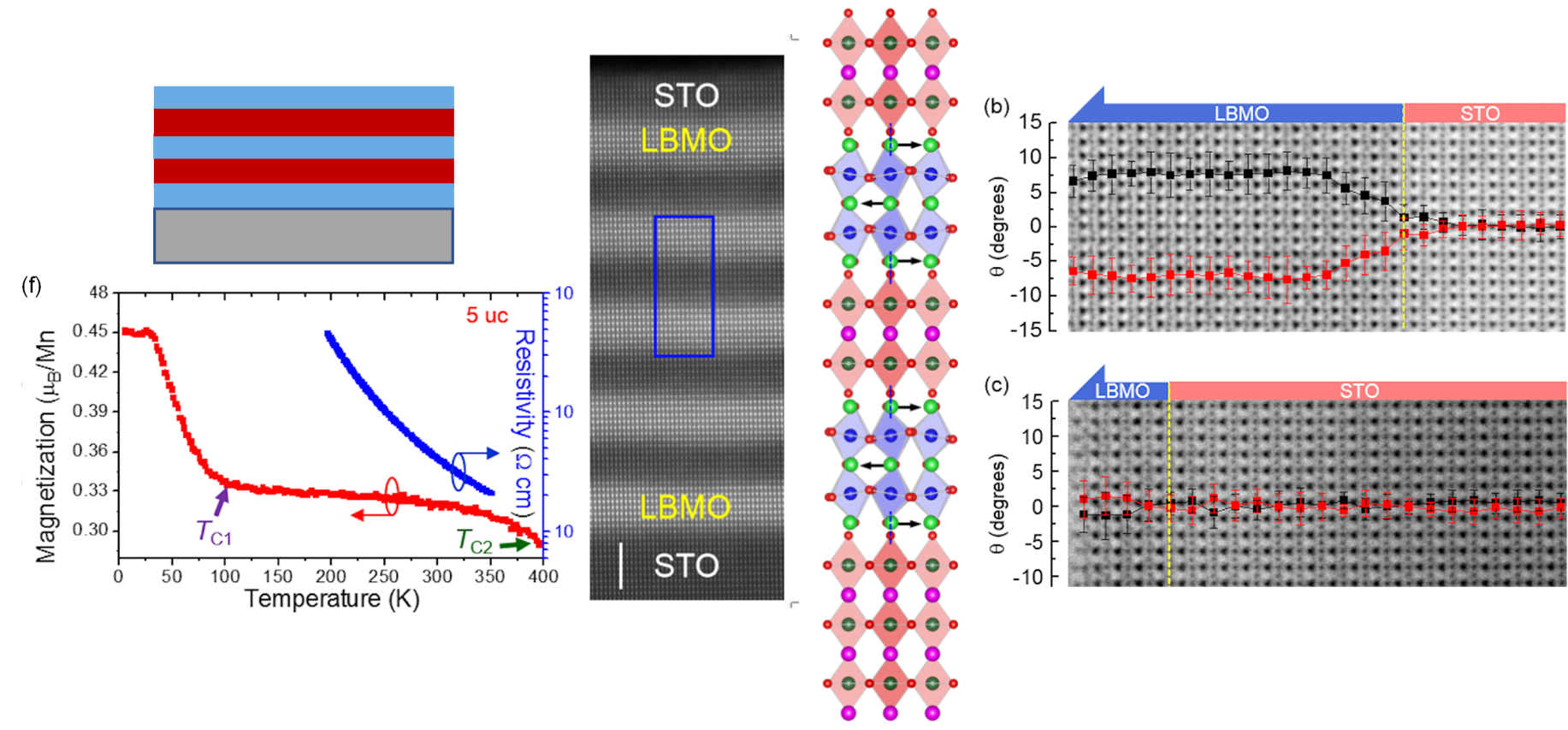 Fig. 3. Structure and Properties of the LBMO/STO superlattice system. Layers of LBMO and STO are shown in different formats with real images in centre and right hand side/ 40 uc and 5 uc LBMO show different levels of octahedral tilting depending on ability of the STO layer to pin the LBMO. Magnetisation and resistivity versus temperature of the 40 uc films show Tc above room temperature and critically an insulating behaviour also. Such ferromagnetic insulating films are required for a range of spintronic devices. Images adapted from 10.1002/advs.201901606.
Example references:
Li W, Zhu B, He Q, Borisevich A Y, Yun C, Wu R, Lu P, Qi Z, Wang Q, Chen A, Wang H, Cavill SA, Zhang KH, MacManus-Driscoll JL, Interface Engineered Room-Temperature Ferromagnetic Insulating State in Ultrathin Manganite Films, Advanced Science, 2019.10.1002/advs.201901606.
 Li W,  Zhu B, Zhu R, Wan Q, Lu P, Sun Y, Cafolla C,  Qi Z, Chen A, Gao P, Wang H, He Q, Zhang KLH, and MacManus-Driscoll J, Atomic-scale control of Electronic Structure and Ferromagnetic Insulating State in Perovskite Oxide Superlattices by Long Range Tuning of BO6 Octahedra, 2020.
b) Heteroepitaxial nanocomposite films
Designer nanocomposite films have been developed over more than 10 years by Prof. Driscoll. She has also collaborated on these systems with Univ. Purdue (Haiyan Wang), Los Alamos National Lab (Aiping Chen), SUNY Buffalo (Quanxi Jia). Such films show unprecedented properties for many wide ranging functionalities, from ultrahigh density memory systems to superconductors, optoelectronics, to photonics, 3D microbatteries, photocatalysts, electrocatalysts, micro-solid oxide fuel cells, etc.
 Below (Fig. 4), we show perovskite manganite nanocomposite films, with precision tuning of low field magnetoresistance by composition and nanostructure engineering with precision tuning of low field magnetoresistance by composition and nanostructure engineering.  We also show SmMnO3 films which, via vertical strain in a nanocomposite film, have become type II multliferroics with ferromagnetism and above-room temperature ferroelectricity.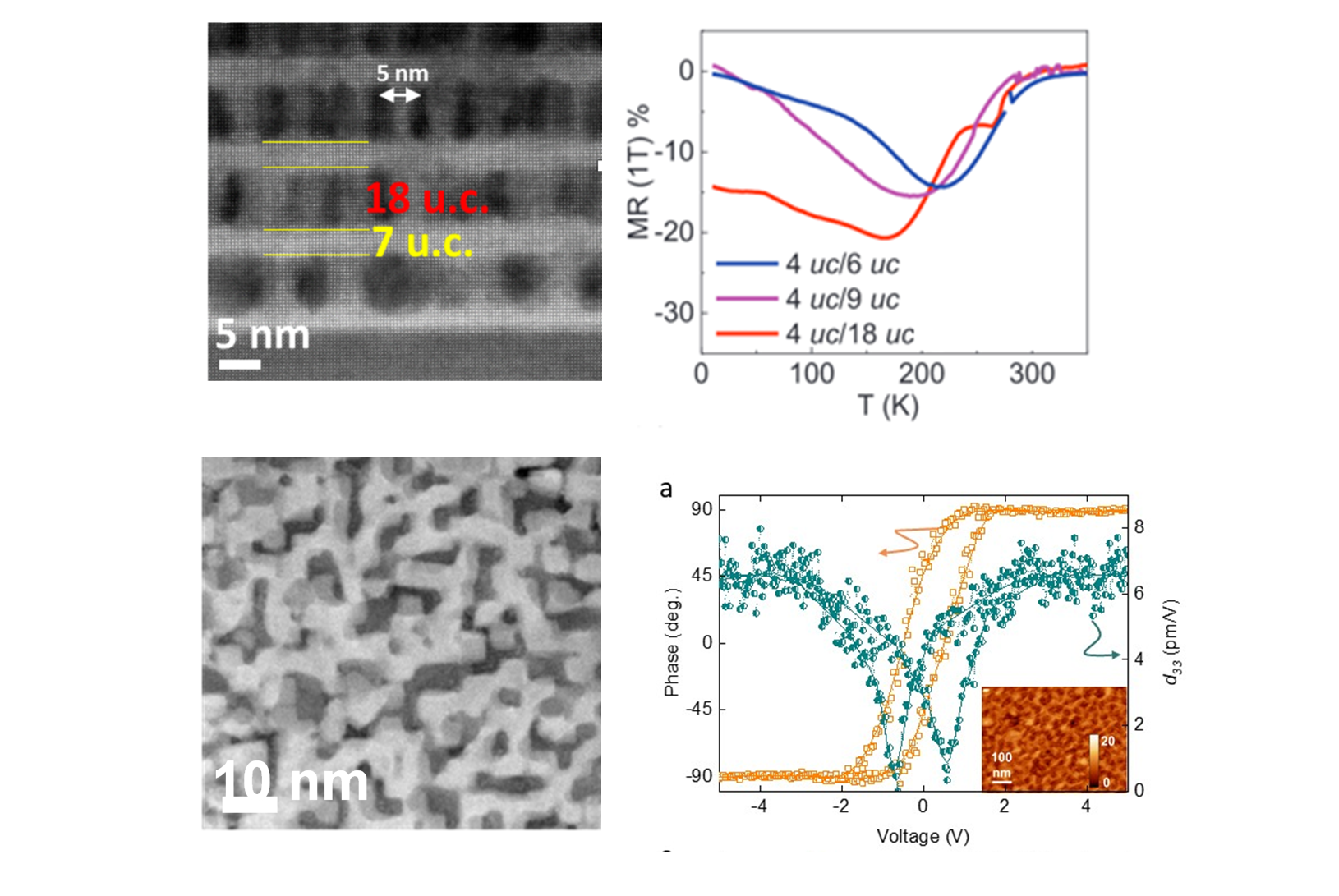 Fig. 4. Self assembled nanocomposite flms with fascinating new properties.  La0.7Sr0.3MnO3:MgO (LSMO:MgO) and SmMnO3: Bi2O3 nanocomposite thin films. a) Cross section TEM of LSMO:MgO courtesy of Aiping Chen (from doi.org/10.1002/adfm.201900442), b) Magnetoresistance at 1T applied magnetic field versus temperature for different numbers of LSMO/MgO unit cells.  c) Planar TEM image of SmMnO3:Bi2O3 (courtesy of Ping Lu, Sandia) and d) Piezo-hysteresis response of SmMnO3:Bi2O3 film measured by piezoresponse force microscopy (PFM) at room temperature (image courtest of A. Kursumovic, Driscoll group.
Example references:
Chen A, et al., Strain Enhanced Functionality in a Simple Bottom-Up Approach Enabled 3D Super-Nanocomposites. Advanced Functional Materials 2019, 1900442.
 Sun Z, MacManus-Driscoll JL and Wang H, Spontaneous ordering of oxide-oxide epitaxial vertically aligned nanocomposite thin films, Annual Review of Materials Science 2020.
 Yun C, Choi EM, Wu R, MacManus-Driscoll JL, Achieving the Bulk Properties of Perovskite Manganites in Thin Films, Nanoscale  2020.
 Choi EM, Maity T, Kursumovic A, Lu P, Lee OJ, Bi Z, Park Y, Wu R, Gopalan V, Wang H, MacManus-Driscoll JL, Nanoengineering Giant Room Temperature Ferroelectricity into Orthorhombic SmMnO3 Films, 2020.